Honda Dashboard Warning Lights Explained
Rosen Honda Milwaukee Explains Honda Dashboard Warning Lights
Serious malfunction warnings appear in red or amber, condition alert symbols can appear in the same colors but indicate a less serious situation, and feature on/off indicators tend to illuminate in green. While not every notification falls neatly into this system–such as the Honda Warning Light Triangle–Rosen Honda Milwaukee provides you with a general key to understanding your Honda's communication below.
Schedule Honda Service in Greenfield
Malfunction Warning Dash Symbols
Dash symbols illuminated in red or amber signal a serious maintenance or repair issue. If your brake system, low oil pressure, charging system, supplemental restraint (airbag), check engine, TPM, high temperature, or any other of the symbols listed below illuminate, it's very important that you bring in your Honda to our certified Honda service center.
Condition Alert Dash Symbols
There's less at stake with condition symbols, which notify you to basic car-care ans passenger-safety reminders: low fuel, unfastened seat belts, an open door, or an open trunk, etc. While some of these symbols may be highlighted in red or amber, they're nothing to book service for unless they stay perpetually lit despite having corrected the problem.

On/Off Alert Dash Symbols
On/Off symbols indicate whether a certain feature of your Honda is active or not. They don't normally require service. Unless they never turn off, even when you're sure a particular feature is inactive, they're simple reminders.

Honda Dash Light Color Codes
Green: a feature is activated and should cause no concern.
Yellow: danger could be imminent. Contact us for service!
Red: indicates a serious malfunction or a reminder, such as a seat belt reminder or a door-ajar scenario. As a general rule of thumb: if you're seeing red, it's time to bring your Honda in for service.
Outliers: What Does the Honda Warning Light Triangle Mean?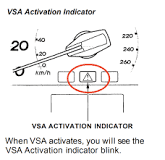 Your Vehicle Stability Assist (VSA®) system supports your Honda's stability while maneuvering corners, keeping you on your trajectory without swerving or suffering miscalculations. When your Honda detects a VSA® issue, a triangle with an exclamation point can appear in an array of colors depending on the year and model of your Honda. Call us immediately for service.
Schedule Honda Service in Greenfield, WI
Don't hesitate to contact our conveniently located Honda service center to care for your Honda today. Enjoy our Honda service specials in the meantime!